I watched the entire Scream Queens show for 3 days. I paused watching it only to sleep and sit in Facebook. Lately I have been finding out about the show from Instagram, and I thought "oh, it's my favorite actress Emma Roberts". But I truly started watching the show after seeing how Emma Roberts teaches to do a bitch face on Jimmy Fallon show.
The show is a thriller, but also a comedy. The main hero Chanel Oberlin might be white, blonde and silly. But she inspired me a lot. In the society when almost everybody accuses you of not being perfect, Chanel Oberlin teached me to be confident. My friends and family waits from me a lot of success in all the fields of life. I have a huge pile of responsibilities. Luckily, Chanel Oberlin motivates me to just be myself and enjoy being a young girl. When I am a young girl I have a right to make mistakes. It is my life and no one can accuse me for being a loser in their eyes. In my mind, I can be a princess or Chanel Oberlin or anyone.
These article is for every other girl who ponders on whether their way of living is right or wrong. I give you an advice: don't think about anything and be just Chanel Oberlin. Here are the ten biggest reasons why you should act like you don't care and be Chanel Oberlin.
Reason #1: Chanel Oberlin is an optimist and she smiles a lot.
Image source: weheartit.com
Even in the most unimaginable and despairing situations, Chanel believes that luck is on her side. Yeah, there were times when she screamed and cried, but mostly she smiles a lot. Chanel is confident that everything is right for her.
Here is an article on whether or not you should be a strong woman.
Reason #2: Chanel Oberlin is never lazy on how she looks.
Image source: favim.com
Everyone have days when they do not take a shower or change from their pyjamas. We become sadder and lazier when we allow us to be a bed animal all day. If you are a girl, doing your hair and makeup, putting on a cute pair of shoes and wearing what you like will make you feel more active and livelier. Chanel looks perfect on all the episodes. Although she must be born this way, she spends a lot of time on how she looks. She has her own style, too.
If you are searching for your style, then here is an useful article on how to be an emo, a hipster or a chic.
Reason #3: Chanel Oberlin is not afraid of other girls being better than her.
Image source: wetpaint.com
For example, in the first season Chanel transformed her friend Hester. She helped Hester look sexy and become Chanel number 6. Moreover, she didn't worry about Hester looking prettier than her, because Chanel Oberlin never doubts about being herself unique. Also, Chanel doesn't compare herself to others.
Reason #4: Chanel Oberlin doesn't hide her emotions and vulnerabilities.
Image source: tumblr
Unlike other characters in the show Scream queens, Chanel Oberlin doesn't hide her feelings about someone inside herself. If anyone hurt her, she tells that person what she thinks about him or her at the moment. Her words might be harsh, but at least she doesn't hold a grudge for long. Do you agree it takes more courage to say what you think rather than try to revenge?
Reason #5: Chanel Oberlin notices good qualities in other people.
Image source: wikia.com
In particular, Chanel Oberlin told Grace in the season 1 that Grace is very smart. Additionally, Chanel helped Zayday Williams to become her co-president. Chanel really has a talent to understand other people's personalities.
Reason #6: Chanel Oberlin forgives people easily, especially, her boyfriends.
Image source: purebreak.com
Sometimes I got angry why Chanel allows guys to treat her like a shit. Then I remembered that there never is a perfect boyfriend. You have to accept someone for who they are to be truly happy in a relationship. Uniquely, Chanel dated a man who is much older than her in the season 2. Here is an article about dating older men.
Reason #7: Chanel Oberlin has an exact purpose and big ambitions.
Image source: avclub.com
Beginning from the very first episode of the Scream Queens, we watched how Chanel is aspiring to become a TV host of her own show. Furthermore, Chanel was always sure she can achieve her goal and she was working hard to take a chance.
Reason #8: Chanel Oberlin does not take guilt take over her life.
Image source: popsugar.com
Unfortunately, Chanel Oberlin was in hundreds of problematic situations. She was about to get killed almost every other day and the people around her tried their best to make Chanel feel guilty. Our Chanel Oberlin doesn't have a time to get depressed, because she was too busy to be awesome.
Reason #9: Chanel Oberlin is a leader, knows she is a leader and help others become leaders.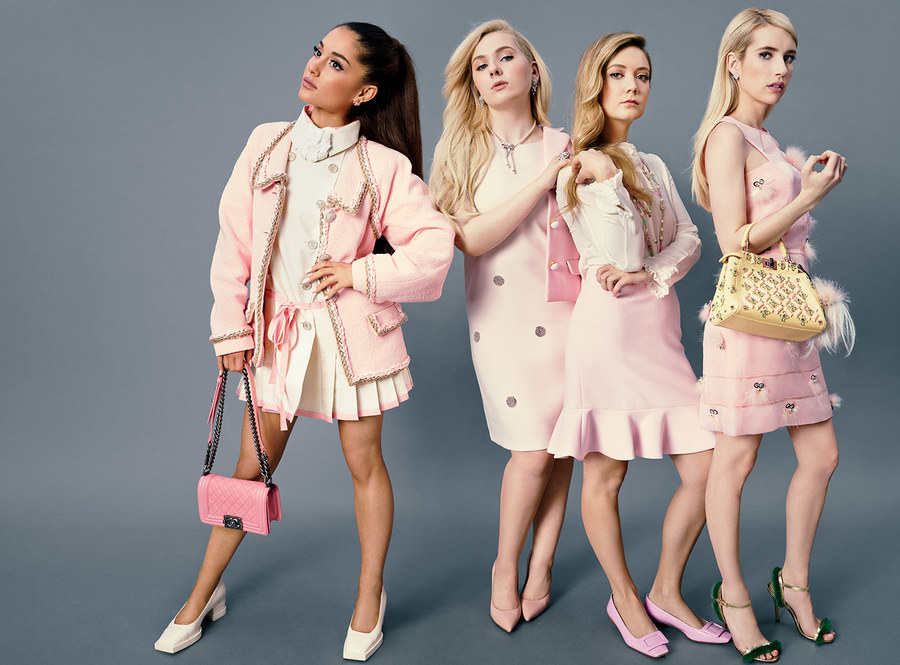 Image source: wikia.com
In comparison to me Chanel Oberlin never waited others to take control of the situation. She is the perfect example of being bold. Chanel always had some ideas about what she and her friends should do.
By the way, here is a cool k-pop song named Leaders sang by G-Dragon and CL. Also, I suggest you a playlist of Asian girly songs.
Reason #10: Chanel Oberlin doesn't get embarrassed by social media harassing.
Image source: marketingland.com
Chanel Oberlin is a very active user of Social media. She has a lot of followers and sends them gifts on Halloweens. Nonetheless, Chanel has a lot of haters and the reporters made people believe horrible facts about Chanel and people were throwing trash at her. But our Chanel Oberlin never gave up.
Generally speaking, I wrote this article to give teenage girls an example of a very inspiring fiction character. You don't have to bleach your hair or change your name to Chanel. I just wish you to be more bold and Chanel Oberlin will teach you how to be a strong-willed young girl.